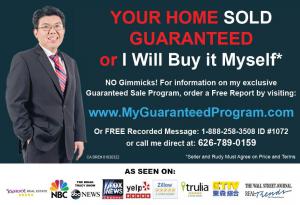 Rudy L. Kusuma Home Selling Team Ranked #1 The Most Reviews and Endorsements from Local Home Owners in zillow – Southern California Real Estate Market
Authentic Research Data By Real Estate Industry Expert, The Report Will Educate Homebuyers Like Never Before
LOS ANGELES, CALIFORNIA, USA, February 9, 2018 /EINPresswire.com/ — Homebuyers make a lot of mistakes while buying a new home due to many reasons and a new report by Team NuVision has been recently published online that lists six biggest mistakes made by homebuyers. From losing thousands of dollars to mental stress, the consequences of these six most common mistake made by most homeowners can be devastating and homeowners can now avoid all that hassle by following these six simple guidelines shared by industry experts.
"The report titled 'Discover How to Avoid the 6 Biggest Mistakes Homebuyers Make' is a result of years of research and data collected by some of the bestselling realtors in Southern California and we are welcoming homebuyers to read it for free." Said Rudy L. Kusuma, an internationally renowned Southern California based realtor, and author. "In this report, we have simply identified these most common mistakes by homebuyers to make sure that nobody repeats them in the future." He added.
The report includes everything from mortgage regulations to planning the move to a new home. Moreover, it educated homebuyers to manage their budget properly, while considering all the important factors involved in the process. Furthermore, this special report will teach people buying skills that can be used not only in the real estate industry but for purchasing anything with the perfectly executed negotiation.
For more information and to get the report, simply visit: www.teamnuvision.net/buyer_mistakes OR 626-789-0159
To read the reviews of Rudy L. Kusuma, please visit his Zillow page: www.zillow.com/profile/rudylk/
Rudy Lira Kusuma Real Estate Broker License 01820322
Rudy L. Kusuma
RUDY LIRA KUSUMA HOME SELLING TEAM
626-789-0159
email us here

Source: EIN Presswire