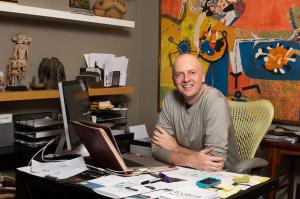 Kim Martindale; Producer / Show Management: LA Art Show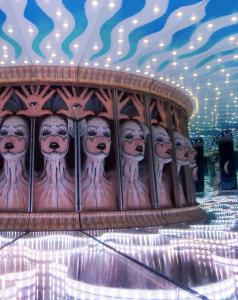 The Infinity Boxes: Matt Elson: Presented by: bG Gallery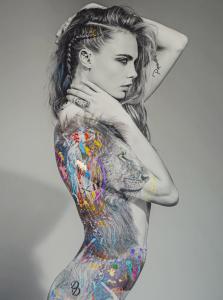 I'm Not A Trophy: Arno Elias; (Model Cara Delevingne) Presented by Denis Bloch Fine Art
One of the Word's Most Important Art Shows is Back: LA Art Show 2018, from January 10-14, 2018 at the Los Angeles Convention Center
The LA Art Show is a huge rush of adrenaline, and massive excitment in one of the best cities in the world, showcasing some of the greatest artists of all time from around the planet."
— Bruce Edwin; The Hollywood Sentinel
LOS ANGELES, CALFORNIA, USA, January 10, 2018 /EINPresswire.com/ — One of the most exciting shows each year in Los Angeles, the LA Art Show is back. From January 10-14, 2018, a large portion of the massive Los Angeles Convention Center will be transformed for 5 exciting days, into one of the greatest mega-gallery extravaganzas on Earth. With over 100 gallerists, some of the worlds greatest fine art, world famous artists, celebrity guests, speakers, pop up resturants from L.A's best fine dining, architecture, furniture, jewelry, and more, the LA Art Show is the place to be in
One of the most important art shows in the world, The LA Art Show hails from downtown Los Angeles; the second most important city in America for art, second only behind New York, with Chicago and Miami following. As the West Coast's most comprehensive and exicting art happening, The LA Art Show is presented by The Palm Beach Show Group, headed by Kim Martindale.
LA Art Show is proud to announce that Jon Hamm, Emmy and Golden Globe award-winning actor, director and producer, will be the host of this year's Opening Night Premiere Gala, being held today Wednesday, January 10, 2018 from 7pm – 11pm. Proceeds from the event will benefit St. Jude Children's Research Hospital, making this the fourth year as the LA Art Show's charity partner.
100% of sales of Patron and Vanguard tickets and 15% of sales of Friend tickets will go directly to the charity. All attendees of the Opening Night Premiere party are supporting St. Jude's lifesaving mission to find cures for childhood cancer and other life-threatening diseases.
In addition to a sneak preview of the exhibits, live music and performance art, gala attendees will enjoy beverages and hors d'oeuvres from over 20 select Los Angeles restaurants. Cuisine will be prepared by James Beard Award-nominated chef Jeffrey Nimer of Hot Chefs LA, and more.
Other Confirmed Celebrity Guests Include: Emma Roberts (Actress), Terry Crews (Brooklyn Nine-Nine Actor), Jesse Williams (The Butler, Cabin in the Woods, Elena Satine (The Gifted), Aldis Hodge (Hidden Figures, Straight Outta Compton), Jurnee Smollett-Bell (Underground), Matthew Modine (Full Metal Jacket, The Dark Knight Rises), Jaina Lee Ortiz (Rosewood), Brandon Boyd (Artist and Lead Singer of Incubus), Richard Burgi (Desperate Housewives), Cheech Marin (Cheech & Chong), Beau Dunn (Entourage), Azie Tesfai (Jane the Virgin), Omar Miller (Ballers, CSI Miami), Alice Amter(Big Bang Theory), Eva LaRue (All My Children, CSI Miami), Amber Stevens West (22 Jump Street), Kamil McFadden (Marvel Rising: Secret Warriors), Edwin Hodge (The Purge), Catfish Jean (Survivor's Remorse), Jermaine Brantley (Black Panther), Kassandra Voyagis (Cleopatra), Kyle Schmidt (SIX), Yvonne Orji (INSECURE), Brian Banks (The Brian Banks Story), Jarry Casale (Musician/DEVO), Moira Cue (Visual Artist/Singer/Actress), Tyson Ritter (All American Rejects lead singer), Jaylen Moore (SIX)
Schedule of Gala Events
6:30pm-7:30pm: Pandemonia "Flash Bulb" Performance Booth 5029 7:00pm – 11:00pm  Patron Reception Booth 110
7:30pm – 8:00pm: St. Jude Presentation Booth 110
8:00pm – 9:00pm: Logan Maxwell Hagege Connect The Dots Booth 843
8:00pm – 10:00pm: Modern Art Blitz Podcast VIP Lounge
8:30pm – Chinese Presentation     
National Exhibition of China opening remarks
Kim Martindale – Welcome
Scott Diament- Welcome
Mr. Gu Jin-Consul, Head of Culture Office Consulate General of the People's Republic of China in Los Angeles
Mr. Jiang- President, China Cultural Media Group
Group Photo- all above speakers + representatives of participating galleries & Blue Sky
8:30pm – 9:30pm   Pandemonia "Flash Bulb" Performance   5029
9:00pm: Performance of YARE: One More Dance by Cristobal Valecillos, presented by Timothy Yarger Fine Art
DAY ONE
Thursday, January 11, 2018
11am – 7pm
12:00pm: Director's Chair with Matthew Modine: Lecture and Q&A
Presented by: Axiom Contemporary Gallery
Speaker: Matthew Modine
Location: Axiom Contemporary Gallery Booth 719
Dialog: On the 30th anniversary of Stanley Kubrick's Full Metal Jacket, Matthew Modine's "Full Metal
FEATURED WORKS
"Left" or "Right"/Punching Bags: by Antuan Rodriguez: Curated by Marisa Caichiolo
The artist states, "Current global politics has created an environment of disrespect for humanity and our planet. Lack of harmony, senseless war, violence, racism, ignorance, loss of values and principles, lack of consciousness, super egos and demagoguery, corruption, disrespect of women, false promises, and outright lies." A healing project, this interactive installation depicts different world leaders and tyrants, and will allow the spectator, through the punching of the bags, to release anger, hatred and resentment. This release of negative emotions will transform these objects into tools of detoxification and mental healing.
The Infinity Boxes: Matt Elson: (pictured) Presented by: bG Gallery
Artist Matt Elson presents a series of boxes that allow intimate groups of people to interact via elaborately constructed infinity mirrors set up inside. Aesthetically they are objects that draw the viewer in from a distance with the box's odd beauty and become progressively less comprehensible during interaction.
Typically two people will walk up, look in from each side, put their heads in the box, and then are surprised by the world that opens up inside. The works truly become active only when someone else is looking in the box from the other direction creating a social connection in a perceptually-created other world.
I'm Not A Trophy: Arno Elias; (Model Cara Delevingne, pictured) Presented by Denis Bloch Fine Art
Established in 2016, I'm Not A Trophy is a global initiative to create greater awareness in the malicious acts of trophy hunting and poaching of endangered species. Founded by French artist Arno Elias, the campaign utilizes powerful females figures, like internationally celebrated supermodel and actress, Cara Delevingne, to represent the program's commitment to bringing increased attention to trophy hunting while empowering women to fight back against sexist stereotypes.
LA ART SHOW
Los Angeles Convention Center
1201 South Figueroa Street, South Hall
SHOW DATES
RED CARD SPECIAL COLLECTORS PREVIEW
Wednesday, January 10, 2018, 6pm – 7pm
Wednesday, January 10, 2018, 7pm – 11pm
Thursday, January 11, 2018, 11am – 7pm
Friday, January 12, 2018, 11am – 7pm
Saturday, January 13, 2018, 11am – 7pm
Sunday, January 14, 2018, 11am – 5pm
Bruce Edwin
Hollywood Sentinel Public Relations
011-310-226-7176
email us here
LA Art Show 2018

Source: EIN Presswire